Attock Educational Projects
District Government Attock has completed 227 schemes worth Rs. 375 million in education sector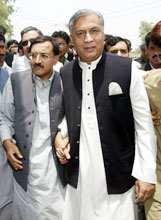 reform programme initiated by Chief Minister Punjab Ch Pervaiz Elahi.

District Education Officer (elementary) Malik Mohammad Ashraf told that under crash recruitment programme, 2,549 educators have so far been recruited in the district while the process to fill 1500 vacant posts in education department was in final stages.


He said that district government had upgraded 265 schools including 15 high schools, 92 elementary, 139 primary and 19 Maktab schools, while 18 new schools had been set up in far-flung ares of the district.

Malik Ashraf said that Attock was facing acute shortage of science teachers and special efforts were being made to overcome the shortage. He said that establishment of Comsats information technology institute, polytechnic school and education college were some of the big achievements of the district nazim in education sector.
He said that Attock district was far ahead from other districts of Punjab for turning the dream of "Phara Likha Punjab" of Chief Minister Ch. Pervaiz Elahi into reality.
Users' Comments (0)
Only registered users can comment an article. Please login or register.
No comment posted
2007-2015